Wednesday, March 18, 2009
Friday, March 13, 2009
Last night we went to the
Disney on Ice show
.
MomCentral
and
Feld Entertainment
were so kind to give me the opportunity to give the tickets away on the blog and to treat us as well. They had an event for us where they gave us dinner, a chance to meet Mr. and Mrs. Incredible, and gave the boys a Mr. Incredible doll and a Dash mask, in addiiton to tickets to the show.
The show and event were a blast and the boys especially had SUCH a great time. They are The Incredibles' biggest fans, you know. Of course, they wore their costumes to the show. Even I really enjoyed the show. It's my favorite I've seen of these types of shows. It's about the Incredibles going on a vacation to Disneyland, where of course, they meet Syndrome. It's really cute the way they work the Disneyland rides into the show.
I love this picture of my Incredibles: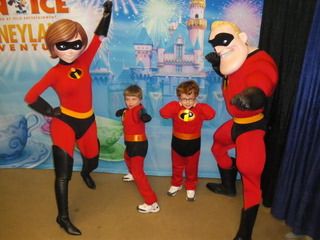 Here they are first meeting them: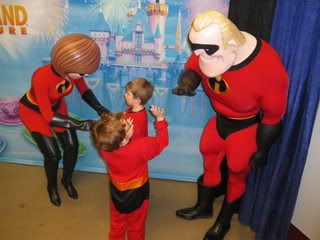 Here's Miles enraptured by the show. He held his hands like that for most of it: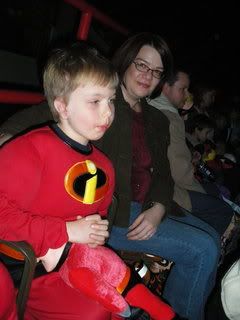 At the intermission he had his hand down his collar on his chest and looked funny. I asked him what was wrong and he said, "My heart's just beating really fast." It was so cute!
Here is Jack with his Mr. Incredible doll: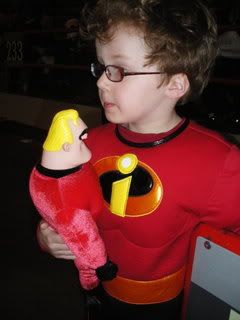 And both of them with their masks on: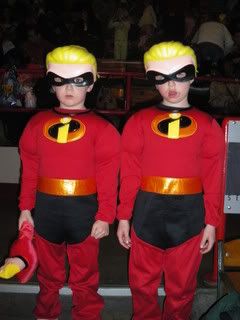 Thanks so much to MomCentral and Feld Entertainment!
Posted by

Miles' parents
at 2:05 PM
No comments:
Links to this post


Tuesday, March 03, 2009
Jack: Mom, is that a picture of you and Dad in love?

Mom: Yes.

Jack: I want a picture of me in love. I want to get married. But boys can't get married.

****************************

Miles: I want to marry M*****. But I think I would get bored if I was married to just one person.
Posted by

Miles' parents
at 2:16 PM
No comments:
Links to this post


We just sent these pics of Miles' ears to Dr. Reinisch. We are 40 days post-op.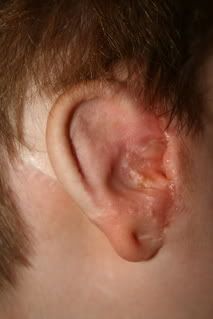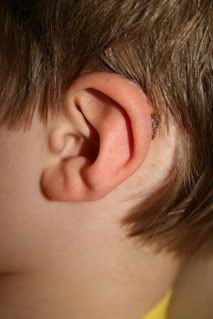 Dr. R. called last night and wants us to remove the scab in the second pic, so we're going to work on that in the bath tonight. Will report back.
Posted by

Miles' parents
at 9:27 AM
No comments:
Links to this post


Posted by

Miles' parents
at 9:15 AM
No comments:
Links to this post