Miles had surgery to remove the keloid scars on his ears on January 20th. Needless to say, we missed all the inauguration festivities. The day before, we had a pre-op with the Radiologist, Dr. Hakimian, at the Cedars Sinai Cancer Center. Then later that evening, Dr. Reinisch met us for a pre-op. He came in on his day off (Martin Luther King day) to see us, which was very nice.
We had to be at the Cedars Sinai surgical center at 8:00 am. Miles did great with not being able to eat breakfast (knowing him he was happy he didn't have to) and was in great spirits. Here you can see him getting ready with Lil' Penguin, who got to accompany him in the OR.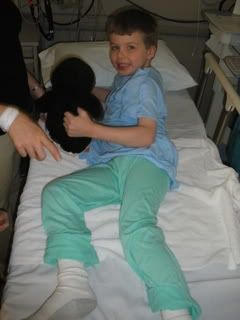 The surgery took about 2 hours. I got to join him in recovery and wait for him to wake up. After he'd been awake a little while, they let Brian and Jack join us.
Miles did great coming out of the anesthesia and did not seem to experience much pain from the surgery at all. We gave him tylenol with codeine once later that day, but he didn't need anything after that. We weren't even really sure he needed it that one time, but wanted to make sure he didn't experience any unnecessary pain. He took antibiotics for a few days afterwards to prevent infection.
Here you can see Miles having a jello after surgery, looking pretty good. He was very hungry afterwards. This was after several cookies, crackers, and juices. After we were done with everything we had ice cream and then he asked for McDonald's, so he was a hungry guy.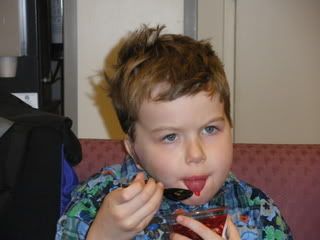 After the surgery, we headed across the street to the Cancer Center for the first bout of radiation. He was so cute on the way out. He was in a wheel chair, and he told everyone that he passed, "It's okay. I didn't break my leg. I'm just a little dizzy." Apparently he thinks you only ride in a wheel chair if you have a broken leg.
The radiation is to hopefully keep the keloids from growing back. It took awhile for them to measure things and get it all set up. But that only needed to be done that first day. Then he got 4 minutes of radiation on the right side keloid site and 2 minutes on the left. We then returned the next 2 days in a row for radiation again. They were very nice at the Cancer Center.
After our last radiation treatment, we had a final post-op with Dr. Reinisch and then flew out that evening. Unfortunately, Miles came down with a virus the night before our last appointments/last day in LA. So he was not feeling well. He threw up once and had fevers. I felt so bad for him. It's rough to have just had surgery, have to travel, and be sick. But he was quite the trooper.
Here are before and after pics of the surgery.
Right side medpor ear with keloid: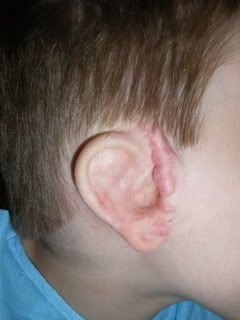 Right side medpor ear after surgery: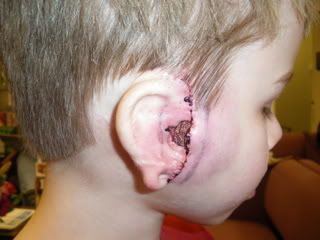 In the picture above, you can see the plug in the "ear canal." Dr. Reinisch did some extra work on that, unrelated to the keloid. We've had some trouble with his pseudo ear canal. After bathing, we dry it very thoroughly, but it still would get crusty and even stinky. We've had to use antibacterial cream after every bath to keep this from happening. Hopefully we won't need to do this anymore. Dr. R. removed the plug at the post-op appointment.
You can also see the marker on each side of the ear. These are marks that the radiation technologist did to show them wear to put the shields for the radiation. You can also see the bruising on the side of the cheek. Dr. R. said he had to lift the cheek flap up, which caused this.
Below is a picture of the ear a few days ago and you can see that he still has some bruising. The stitches are ones that will dissolve. He is healing really nicely. I think the ear may turn out looking better over all in the long run.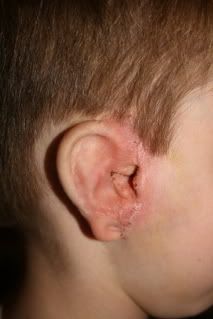 Here is Miles' left ear with the keloid on it: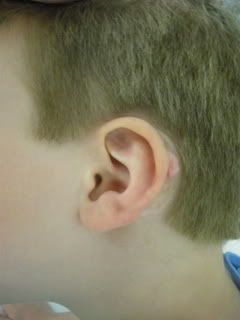 And here is the ear immediately after surgery:
Miles has no restrictions on activities (we couldn't get his head wet until after the post-op) and the ear doesn't seem to bother him.
We are very thankful to Dr. Reinisch for his work and pray that the keloids don't come back.