So, as you all know, last week we went to LA for Miles' keloid removal surgery and radiation. The doctor's appointments all started on Monday, so we went out on Saturday for a little fun.
We flew into LA and picked up our rental car and drove the trek down to Carlsbad, CA. We didn't have a whole lot of time that afternoon/evening, but we did get down to the beach where we threw rocks into the ocean, waded in the cold waves, and watched the surfers and the sun going down.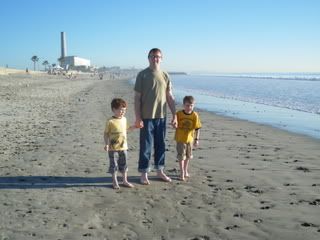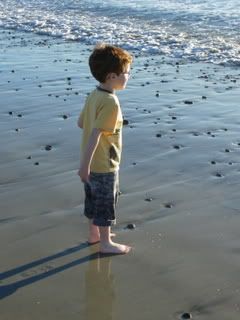 The next day we went to
Legoland
. The boys absolutely loved it and ask just about every day when we're going back.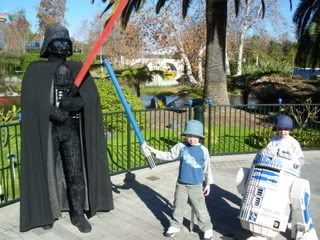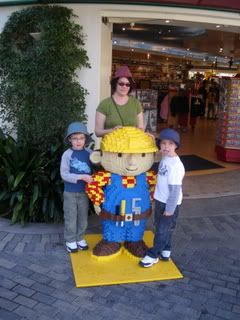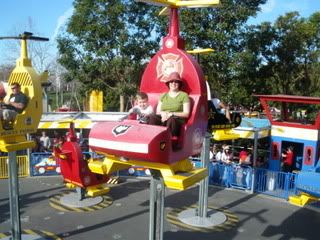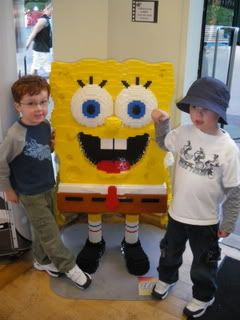 After the surgery, we got to do a little bit of fun stuff, while we were in town for the radiation treatments. We went to the
La Brea Tar Pits and Page Museum
.
Here the boys are making friends with a giant sloth.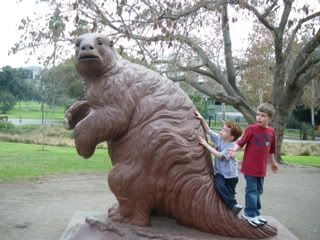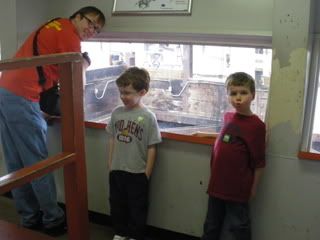 Here you can see some fossils in the tar: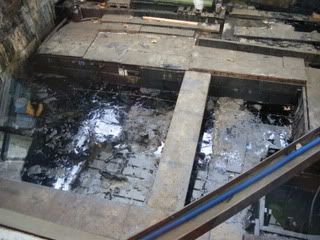 Jack looking particularly mature: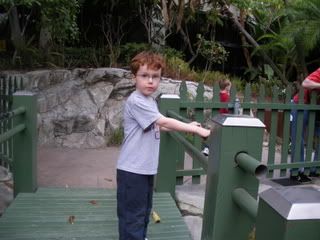 We also saw a horrible Disney movie from the 80s, "Oliver and Company" at the
El Capitan Theater
, which was within walking distance of our hotel. But the boys likes, which is the most important thing. And it started out with the whole Disney extravaganza thing, where Mickey comes out and dances followed by cannon shots of confetti and a pre-feature Mickey Mouse cartoon. I love that place!
We stayed at the
Hollywood Orchid Suites
, which was no
Magic Castle
, but was a lot cheaper than the Magic Castle. Our one bedroom suite was very roomy with a living room (that had a bed instead of a couch), a dining area, a galley kitchen, a bedroom, bathroom, and lots of closet space. It was a little run down and not as clean as I would like, but it did the job. They were very nice and gave us a surgical rate and inquired about Miles often. They also let us stay a couple hours later than check out time, when Miles got sick on the last day.
I'll post about the surgery soon.