Before we post our LA pics, here are some belated ones from the holidays.
We visited the
Forney Museum
: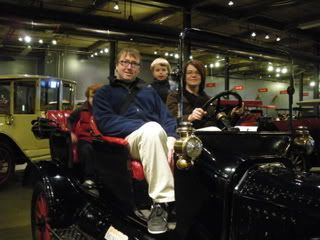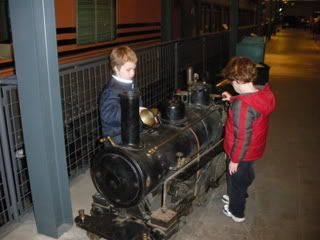 Can you guess what this is? (Hint: choo choo!)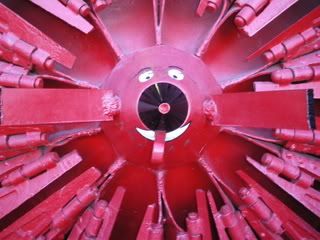 We had dinner at
Mataam Fez
, a Moroccan restaurant. The boys didn't really eat (thankfully, we fed them ahead of time), but they enjoyed the experience. You sit on the floor, take your shoes off, and eat with your hands. The meal starts off with a ritual hand washing and a towel thrown over your shoulder. You then have bread and soup; a variety of salads; delicious B'stella, a pastry with fruit, nuts, and chicken, covered in powdered sugar, and then your entree. It's followed up with mint tea, served very creatively (the servers do tricks while they pour it), and fresh fruit. Finally, there is another hand washing and you're sprinkled with rose oil. A belly dancer entertains you during the meal. The food was yummy and it was a blast for everyone, adults and kids.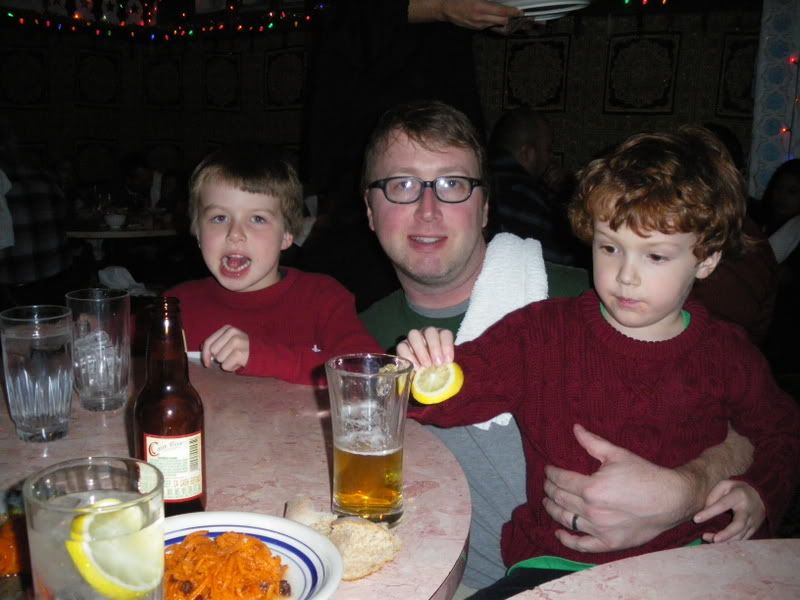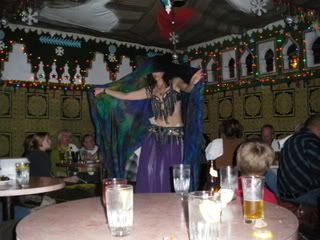 After, we visited the Capitol to see the lights:
Here, the boys are making Christmas cookies with Grandma: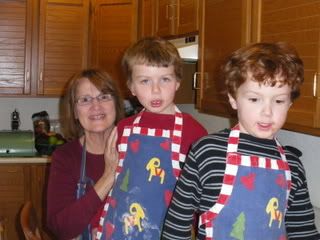 And Miles is helping me make the dinner rolls for Christmas dinner. He helped knead the dough for almost the entire 15 minutes!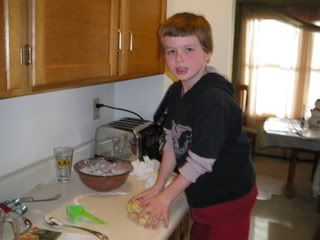 Here's the requisite visit with Santa, at Jack's Christmas program. Unfortunately, I did not get a pic when Jack's pants fell down on the stage!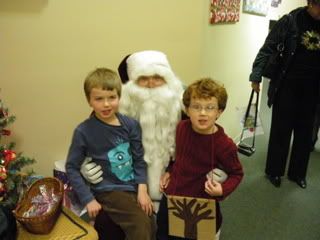 Here are pics from Christmas day: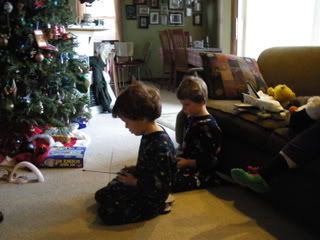 Jack in his Super Guy costume that he designed himself and Grandma Sharon so kindly made for him: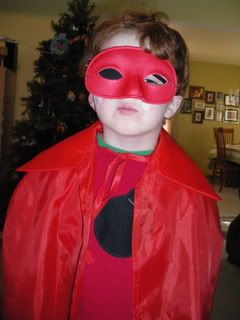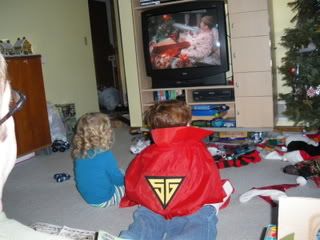 Note the Christmas disaster zone in that 2nd pic. Can you tell what movie they're watching? It's a classic!
But especially note the patch on Jack's eye under the mask in the first pic. Jack spent Christmas day with an eye patch and we all spent Christmas Eve at the ER. The boys got to open one toy on Christmas Eve and I let them open their Star Wars light sabers. Immediately after opening it, Jack pushed it down into the handle. It was spring loaded and popped right back out and into his eye, scratching his cornea. Poor guy was in a lot of pain and VERY uncooperative at the ER. It took 4 people to hold him down so they could get a look at it. And he wouldn't even open his eyes to see Santa, who paid a night time visit to the ER. Brian got to spend a couple of hours at the only open (and scary) pharmacy in town, watching junkies try to scam prescriptions. Fun! Luckily eyes heal quickly, and Jack was totally fine in just a couple of days.
Here's Jack on his "red bike with flamings" that he insisted he must have. Okay, well, Santa couldn't find a red bike. You can't really tell it in the picture, but there are red flames on it.