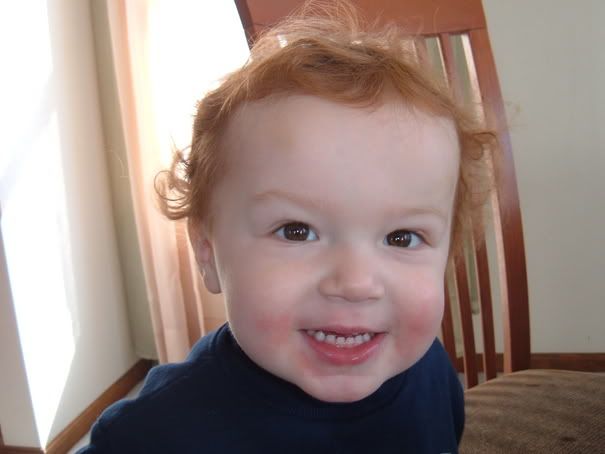 Since this blog has focused so much on Miles (due to its original intent), I thought I'd do a post that is just about Jack.
Jack will be 2 at the end of March. I can hardly believe it, except that his "terrible two-ishness" constantly reminds me! He's actually a pretty easy going guy...until he gets mad. We call him our little "drama queen."
I'm obsessed with his beautiful, curly red hair. Who wouldn't be? I can't believe he's almost 2 and we haven't cut it yet. We just can't bring ourselves to do it.
He's starting to talk a lot, although he can be pretty hard to understand sometimes. I think he says a lot more that we realize. The other day he surprised us by singing a "Jackaroni" song we made up and haven't sung to him in ages. He started singing it when we gave him some macaroni for lunch. He loves to sing and is constantly humming songs that he's either heard or made up. He'll sing parts of the "ABC" song, "Twinkle Twinkle," and "The Butt Cream Song" (another Coakley original about Balmex).
This weekend we went to Costco and when the guy packing up our stuff said "Bye Bye," Jack responded with "Bye bye, see you, love you." The stuff that I say to him in the morning when I leave for work. It was too cute!
He's quite the polite little guy. He says "please" and "thank you," and for awhile was even saying "excuse me" when he belched. Unfortunately, that has stopped.
We're looking into enrolling him in a "Little Gym" or "Gymboree" type program. He went to a trial one the other day and loved it! We're hoping it will give him a chance to socialize, since we don't know many other little kids.
More later! Enjoy the pics:
Count Yogurt-ula!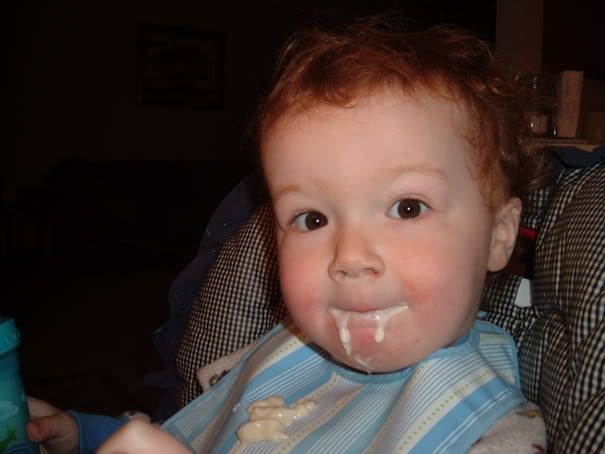 His new hat. It goes well with his hair: