Last week Dr. Reinisch came to our house! He had a meeting in Vail and stopped on his way from the airport. Five other families came: two for consultations, two for microtia post-ops, and one for a hemangioma removal post-op. It was so nice to meet everyone and especially nice to meet Dr. R's lovely wife.
Dr. R. said that Miles' ear looks great. He said the color variances and scars will fade more with time. He also reiterated that he doesn't think Miles will need jaw distraction surgery in the future, but we will send him pictures of Miles' bite annually to make sure.
Here is a picture of Miles 39 days post-op: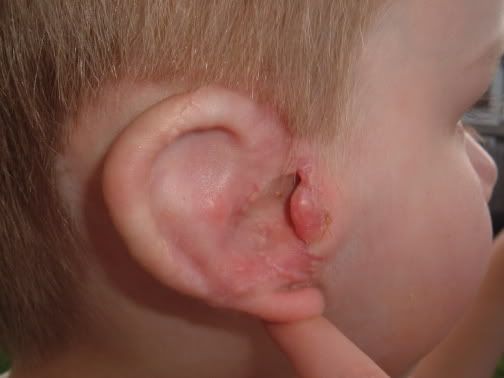 How many doctors do you know that would do something like this? He and his wife must have come straight to our house from the airport and they were there at least an hour and a half, not getting off until about 9:00 pm. I don't think they had even had a chance to have dinner yet and they still had at least a two hour drive to Vail. Needless to say, I continue to be impressed with him.
He mentioned that he knew about my blog (Hi, Dr. Reinish, if you're reading this!), which is pretty neat. And he asked me to help him work on a "Parent's Primer to help parents understand the pros and cons of various microtia treatments and answer all the common questions that they have when the have a child with microtia." He asked at least one other parent on the
microtia yahoo board
to work on this too, so she and I are going to try to coordinate. I'm excited about the project. If you have any thing you would like to see included, please email me via the contact link on the side bar.