Hello, everyone! We're back in LA at the Magic Castle hotel. They have been very nice here and I would heartily recommend them to anyone—especially those of you that are coming out here to see Dr. Reinisch. Ask for the ear surgery discount. This time they didn't have rooms for us for all the nights we wanted, so they gave us 2 rooms for the price of one in their hotel higher up in the hills, just above the MC, called the Hollywood Hills Hotel. So we have 2 one bedroom suites for the price of one surgical discounted price. The rooms aren't quite as nice, but we have more space, which is great.
Yesterday we went to our first official post op with Dr. R. Warning: I'm going to post some pretty graphic pics in a minute. They removed all the dressings, removed the drains (by far the worst part), cleaned up his ears, and washed his hair. They then put new dressings and cup on the right ear, but he doesn't have to wear a cup on his left ear anymore. Now he's a lop-sided teletubby!
Cleaning up helped the itching head somewhat, but now the skin graft on his left ear is itchy. We had an even harder time last night keeping the "hat" on, because he keeps scratching and since the sides are uneven, it doesn't stay on very well. Thankfully, he was absolutely exhausted last night, so slept pretty well, despite everything.
Unfortunately, it looks like we won't be able to go home early and will have to stay until Friday. Dr. R. now wants to see us on Tuesday, but doesn't know when. We're just supposed to call him on Tues. morning to find out when to go in. We wanted to leave early, but it is just too cost prohibitive to change. So I guess we'll be staying in LA for awhile. Hopefully we can work out a deal with the Magic Castle so we can stay here the whole time. And hopefully we can find some fun, but inexpensive things to do. The original plan was to go back to Mesa in between the 1st and 2nd post-op appointments, but now that things have moved around, there just isn't time.
Okay, here are some pics. Here he is with the netting off and they're starting to remove the cups with some anti-adhesive: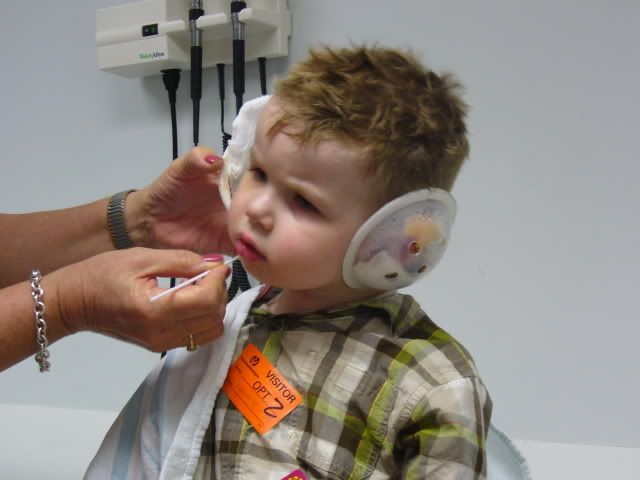 Here is the new ear with the cup removed, but the molding still over it. You can see the drains.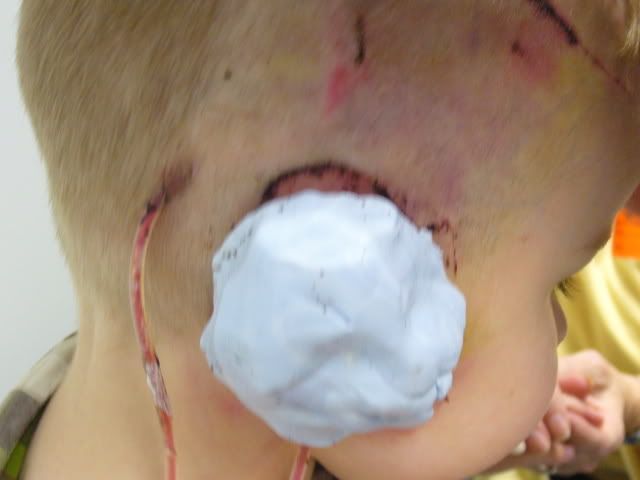 Here is the left ear that had the skin graft with the packing on it: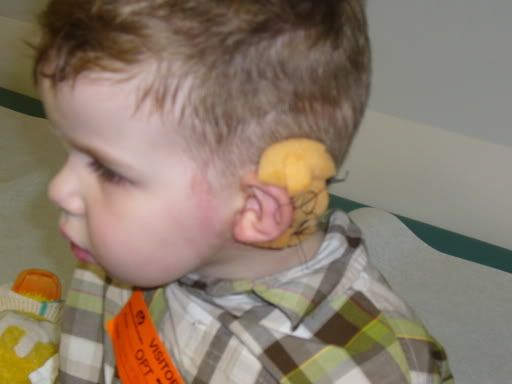 Okay, this one is kind of gross. This is the new ear with the molding off. Yes, it looks awful, but I had been pre-warned, and it actually looks better than I expected. Also, while we were waiting for this appointment, we met a nice family from Florida. They were there to have the 2nd surgery tomorrow. His ear looked fabulous and it wasn't even "done!" So I know this one is going to look great too, once the swelling goes down, is cleaned up more, stitches are gone, etc.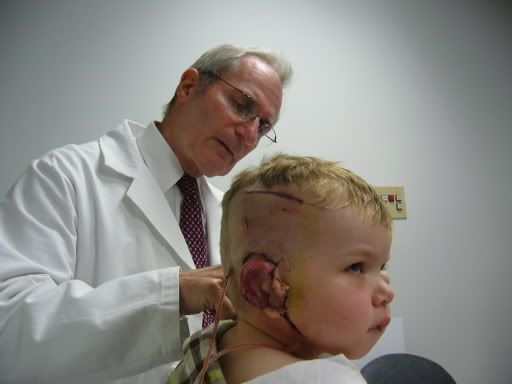 Here is what the ear with the skin graft looks like. They removed the stitches after this pic was taken.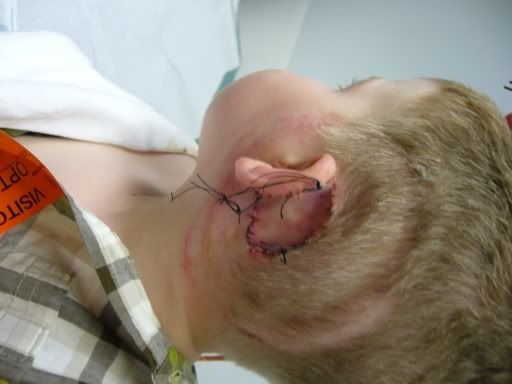 Having the drains removed was really scary and I'm sure very uncomfortable, if not painful. I couldn't believe how long they were! Miles totally freaked out and the rest of the appointment was fairly traumatic--poor guy. They washed his hair, then put a new molding and cup on the right ear. Then netting over his head.
I just looked and I can't believe we don't have a decent pic yet, with his new "half a teletubby" look, but we'll get one. Here's one with his hat on, so it's hard to tell. It's Miles and Jack at the beach at Santa Monica Pier.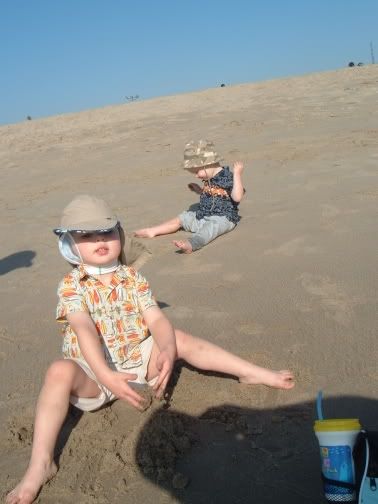 We had the most relaxing day yet, which was WONDERFUL. We took our time getting ready, then went to Santa Monica Pier and then Venice Beach. Tomorrow we plan to go to Disneyland. Hopefully it won't be too much for Miles (and the rest of us!). Miles did really well today. He didn't mess with his head "gear" too much and he seemed a little less tired.
Mom and dad go home on Sunday. My sister is due to have a baby any day now. Hopefully she can wait until mom gets home and even better until we get home. We are really thinking about you, Krista, and send you our love.