Hey,everyone! So sorry that it has been so long since we've updated this blog. We have not had internet access since we left LA. We are at my parent's place in Mesa--much cheaper than staying in LA. It took about 7 hours to get here.
Miles is doing pretty well, all in all. He's very uncomfortable and itchy in his "hat." Nights especially have been difficult since he scratches, rubs, and rolls around in his sleep. One of us has to stay up with him to make sure he doesn't lay on an ear or rub his bandages/cups off. We're all very tired! One night we were feeling pretty cocky and thought that we'd just have daddy sleep with him, since it had been going pretty well. That turned out to be the worst night of all, poor boys. So now we're back on the shift regimen.
We were able to remove the marcaine drip from his abdomen skin graft with no trouble at all. It popped right out, even before I got to the room to help. We did it while he was asleep and it didn't disturb him at all. His abdomen has not really seemed to bother him much, so that thing must really work.
Miles' right eye swelled up a couple days after the surgery. Thankfully, Dr. R. had warned us that it would probably happen. He looked like someone socked him in the eye. It's starting to get better now.
Tomorrow we head back to LA for our first post-op appointment. Dr. R. will remove the drains; change the cups, dressings, and head netting; and hopefully wash his hair. We're hoping Miles will cooperate. The last appointment was such a disaster. We're going to take Grandma with us, since she sometimes has a calming effect on him.
At the surgery, Dr. R. told us that our second post-op will probably be Monday the 7th, rather than the 10th like we had expected, because he's going out of town. A little frustrating since our plane tickets to leave are on the 11th. We won't know for sure until the appointment tomorrow (I guess he could have us see a different doc; he didn't want us to make an appointment for the 7th yet). So everything is kind of up in the air. We would REALLY like to go home before the 11th if we can. American Airlines are being jerks and will charge us $150 per ticket to change, but we might do it anyway. With hotels, car rental, etc., it might be worth it in the end.
We've done a few fun things since we got to AZ. All of our trips have to be fairly short, since Miles tires easily, but it's amazing how much energy he sometimes has. He has run so much that the liquid in his drains got frothy! Ewwwww... We went to the Phoenix Zoo, IKEA (wow--wish I had one in Colorado), and had dinner one night at a goofy restaurant called the Organ Stop. The whole room is a giant organ, and you eat pizza and watch a big organ show. The kids were in awe.
Here is a pic of Miles with his swollen eye. Not the greatest pic, but we'll try to post more later.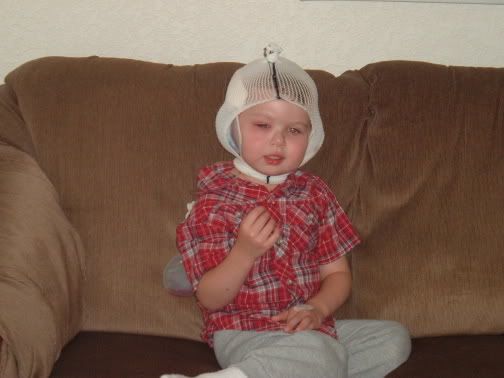 Here is one from this morning, you can see that the eye went down and is just looking a little yellowish.
We'll try to post more when we get back to LA and have a better internet connection.
Thanks for keeping us in your thoughts and prayers!