We had a decent Thanksgiving. It wasn't as good as it could be because my mom came down with the stomach flu that all the rest of us had had a few days before. So my sister, her husband and new baby didn't come over, making it a pretty small party at the table. But the food was good (I did it--woohoo! Brian did the turkey), and we sure do have a lot to be thankful for this year.
Here is Miles at the Thanksgiving feast table. Do ya think I made enough stuffing?
Here's Jack after fingerpainting with his cranberry sauce: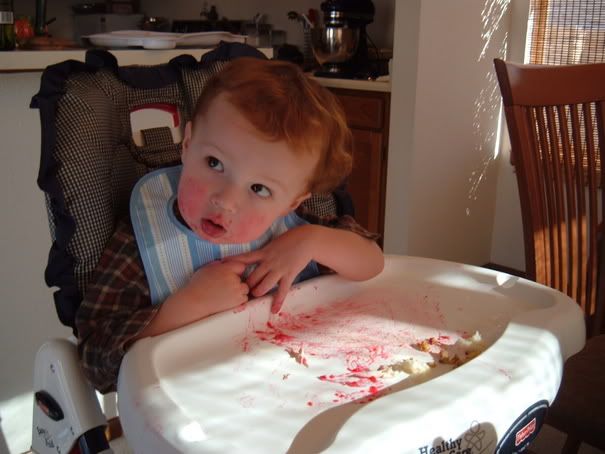 Today we started the "weaning" process. That is, the weaning him off the net hat first. We finally convinced him to wear this green hat instead. Here he is eating grapes: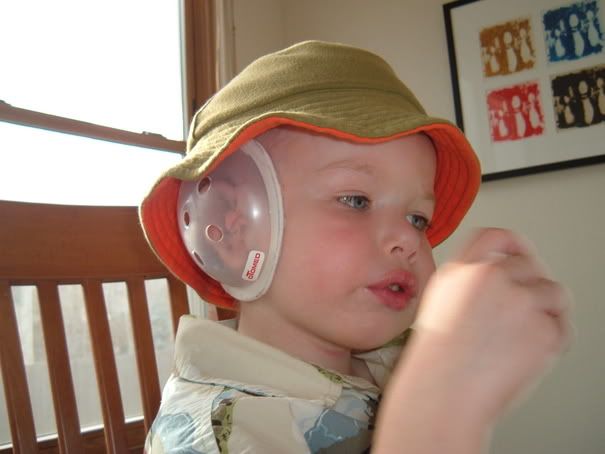 Then at bathtime tonight, we got the cup off with some drama, but not as bad as before. BABY OIL IS MUCH BETTER THAN FINGER NAIL POLISH REMOVER! Thanks to Jean for that tip. He actually really let me clean up the ears (I found that letting him clean my ear first helped). I'm having a hard time getting a non-blurry close up of his ear, so we'll try to get a better one in the next few days and post again: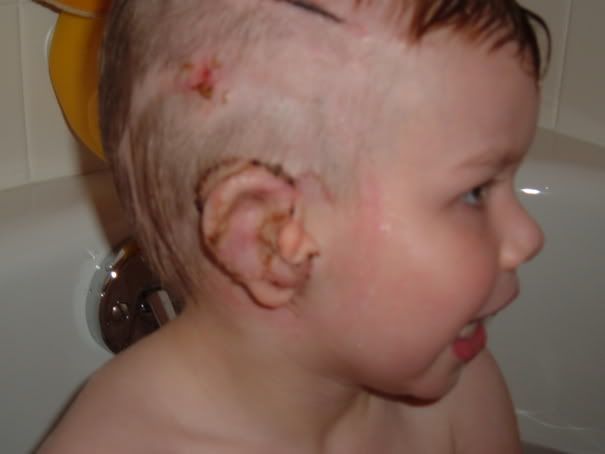 We put a cup on for bed without any adhesive (thank god!), using the strap instead. And his green hat (which I plan on removing after he goes to sleep). He was finally all happy about things. Yay!