We had our 2nd post-op with Dr. R. today. He changed the cup and netting over his head. He also removed the blue molding that was on the new ear and cleaned everything up a little bit. We had teething Jack with us who was screaming, so unfortunately we only got one pic that turned out. This is the new ear. Miles is crying because removing the cup pulled the hair under it. Other than that, he was actually pretty good at this appointment. Warning: a kind of gory pic: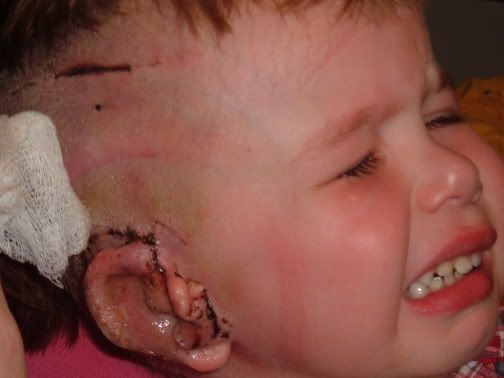 Prior to the appointment we didn't do much. We had lunch at a place called "Wacky Waffles." We figured that would have to be cheap--ha! I had a $9 omelet. It was a really GOOD omelet, but sheesh. I think it was so expensive because it's across the street from the
Chateau Marmont
, which we didn't realize at the time. We even saw some "celebrities" there: Rachel and Veronica from "Road Rules." LOL!
Also on the way back from the doctor appointment, I SWEAR I saw Martha Stewart outside an antique store in Beverly Hills. I could be wrong, because I would expect her to have an "entourage" and she didn't, but it sure looked like her. Plus it was the kind of place you might expect to see her.
Right now Jack is hopefully taking a nap and Miles and Brian are taking a walk outside to look at the blimp. The Stones are doing another show tonight, so it's back.
Since I posted a sad pic of Miles above, here's a happier one in those gardens behind the hotel the other night. They're busy, so not smiling, but they were having fun: