Miles is 3 1/2 years old. When he was born, we were surprised to find that the ear on his right side looked kind of like it was folded over. We later found out that his condition is called microtia and atresia. "Microtia" literally means "little ear." Miles has grade III microtia, the most severe. His ear is just a little flap of skin; it kind of looks like a peanut. Here is a picture that shows what his ear looks like (a cute one of him kissing his baby brother):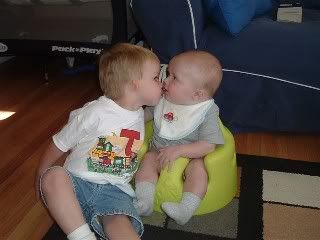 "Atresia" means that he has no ear canal. He does have an inner ear, but since there is no ear canal, he hears very little out of that ear. An operation called a canalplasty opens up ear canals, but we recently found out that he is not a candidate for that operation.
There are two types of surgical procedures commonly used to construct a new ear for children with microtia. The first, more traditional, type of surgery is called a "rib graft" surgery. In this procedure, the surgeon harvests cartilage from one of the patient's ribs and carves it to form the framework for the new ear. I believe that a skin graft for the new ear is usually taken from right above the patient's buttocks.
The second type of surgery is called a "medpor" surgery. In this procedure, the framework for the ear is made from a synthetic, polyethylene material called medpor. Skin for the front of the new ear is taken from the back of the other ear and skin for the back of both ears is taken from the lower abdomen.
We chose to do the latter type of surgery for the following reasons: 1) it requires (usually) only two surgeries, whereas the rib graft requires three or four, 2) it is less invasive, since no rib cartilage is harvested, 3) it does not require an overnight hospital stay, like the first rib graft surgery does, 4) it can be done at a younger age, since children do not have to be big enough to have enough rib cartilage, 5) medpor ears project out from the head like "normal" ears, whereas rib graft ears lie flat against the head.
We have chosen
Dr. John Reinisch
at Children's Hospital in Los Angeles to do the surgery. We chose him because he developed the procedure and is the most highly recommended doctor that does this procedure. Also, we have met a little boy who underwent surgery with Dr. Reinisch, and we were impressed with the results.
So, on October 27th we will be flying to LA to undergo surgery on the 28th. We will be there for several weeks (spending part of the time between appointments at my parent's retirement house in Mesa, AZ). There will be two post-op appointments after the surgery, and we will leave LA after the last one on November 11th.